Cover Your ASSets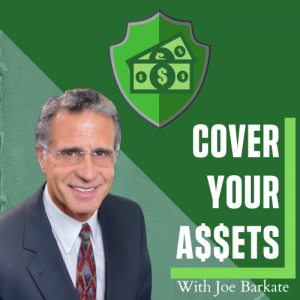 Joe Barkate hosts "Cover Your ASSets," a podcast with discussion, advice, and news covering asset protection, risk mitigation, finance, and entrepreneurship. Joe Barkate is a business owner, an asset protection attorney, and a financial advisor giving him the knowledge and experience to advise on such topics. "Cover Your ASSets' will feature guest speakers to provide other people's experiences and advice to the table.
If you don't properly protect your assets, which you worked long and hard to accumulate, they can be lost quickly in a lawsuit, bankruptcy, or if creditors come to collect. Listen and discover the laws and practices that shield certain assets and prepare you for the worst-case scenario.
Episode 03: Insurance the Foundation of Asset Protection
In this episode, Joe Barkate brings on a guest speaker Kim Butler. Kim, who has seen many facets of the financial industry, now helps clients build long-term, sustainable wealth using whole life insurance.  Kim discusses the asset protection laws around whole life insurance and its benefits for her clients. In this episode, Joe talks about the importance of life insurance regarding asset protection.
Click here to find out more information on Kim and her services.
Click here to connect with Kim on LinkedIn.
Episode 02: Estate Planning: Will vs. Trust
In this episode of "Cover Your ASSets," Joe covers the importance of estate planning. The first thing you need to understand in estate planning is the difference between a will and a trust and when/why each is necessary. Listen to this episode to find out more.
Episode 01: Fundamentals of Asset Protection
We are delighted to bring you the first episode of "Cover Your ASSets."
In this episode, you meet your host Joe Barkate and uncover his background and credibility on asset protection. He goes into detail about the key benefits of the podcast and what the listeners might gain from listening now and in the future.
Joe discusses the three fundamentals of asset protection: Listen to find out more!
 Being Legal and Lawful
Put Asset Protection Strategies in Place Before Needing Them
 Learn The Asset Protection Strategies for Your Jurisdiction